A few years ago, I said goodbye to pricey facial cleansers and started making my own.  I wash my face with my handmade soap.  I then spray on a simple toner and apply a moisturizing cream I make from beneficial oils.  My skin has greatly improved, both in clearity and softness.
I usually only wear make-up if we are going somewhere special (church, appointments, activities) which ends up being once or twice a week.  I use a brand name mineral foundation, along with eye shadow, blush, and mascara.  I have been pleased with them to a degree, but had always hoped I would find something more "natural".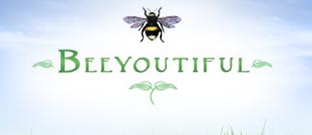 Last month I found it.
The Review
I had heard of Beeyoutiful before, but I thought they only sold vitamins and herbal supplements. I didn't realize they also sell skin care and natural make-up. I was excited to see what they had to offer.
As part of the Homeschool Review Crew, I was given the chance to review Beeyoutiful's mineral foundation, two mineral eye/lip colors, the foundation brush, and the combo brush. The set came in a sweet organza bag along with a DVD explaining how to apply the make-up. Because I have worn mineral foundation for years, I didn't think I needed to watch the videos. I was wrong. I needed to watch the videos. I'll explain why in a bit.
The Products
We were given a trial size (1/5) of the foundation…generally enough to last several weeks. As I said before, I don't wear make-up very often, so for me even the trial size last a long time. Before the review, I was given a choice of three sample packets of foundation to help me choose the correct color. Samples are available for $1.00. I would suggest buying a few of them to try before deciding on a color. It really helps to see the foundation on your skin before deciding. There are 24 shades available to choose from. Unfortunately my namesake shade was too dark for me and I had to go with Genevieve. (I love that the shades have names! Great marketing technique…so much better than light beige 102!)
I received one trial size mineral eye/lip color and one sample size of mineral eye/lip color. For the trial size I chose Sea Sand (a somewhat sandy color with a purple tint) and for the sample I chose Heather Dew. Because these colors can be used for both eyes and lips, we were instructed to pick out colors that could be used for both.
The foundation brush we received was a full, lush, stubby little brush that did an excellent job of blending in the foundation. The combo brush is an all purpose brush with different brushes on each end. One end has more rounded bristles. I used this end for my eye shadow and lip applications. The other end has shorter bristles in a row. This was great for creating an eye-liner effect with the eye shadow.
This mineral make-up is very different than others on the market. I noticed right away that the foundation is a very fine powder. After some investigation, I found that it is made of mica, iron oxides, titanium dioxide, ultramarine blue, and zinc oxide. There are no fillers added to the foundation.
I did a little more research to find out what these ingredients were and if they were good for my skin. Here is what I found out from the Cosmetic Ingredient Dictionary…
mica – earth mineral that gives a shimmer to make-up
iron oxide – iron compound used as a coloring
ultramarine blue – inorganic pigment
zinc oxide – anti-irritant, earth mineral used as a thickener, lubricant, and sunscreen
titanium dioxide – earth mineral used as a thickener, lubricant, and sunscreen (There was conflicting information on titanium dioxide. One sources said that the micro particles could enter the skin and were not good. However, the Cosmetic Cop seems to explain why this would not happen…
Titanium dioxide is typically micronized and coated for use in cosmetic products. The micronizing makes this somewhat heavy-feeling ingredient easier to spread on skin, not to mention making it more cosmetically elegant. Micronized titanium dioxide is also has much greater stability and can provide better sun protection than non-micronized titanium dioxide. Micronized titanium dioxide does not penetrate skin so there is no need to be concerned about it getting into your body (well, unless you eat the stuff). Even when titanium dioxide nanoparticles are used, the coatings employed have a larger molecular size that keeps the nanoparticles of titanium dioxide from penetrating beyond the uppermost layers of skin.
All ingredients received a rating of a smiley face or a check and a smiley face. I take it these are good ratings.
The Application
Here is why I needed to watch the video and why you probably do to…
Instead of just dipping the brush into the powder and puffing it all over your face, there is a bit of a technique to applying the foundation. First I washed my face and applied my toner. Then I tapped out a bit of the foundation into the lid. I added in a dollop of moisturizer and mixed it all together. If the shade is not dark enough, add in a little more foundation.
Once the foundation is mixed, swirl the foundation brush into the foundation picking up as much as possible.
Buff the foundation all over the face. Notice that there are no foundation lines at my jawline. The foundation goes on ultra smooth and has a very natural finish.
Next, I used my Heather Dew sample on my eyes, with the Sea Sand as an eye liner. I dipped the rounded end of my combo brush into a bit of water, then into the minerals. It took several applications to achieve the level of color I wanted. For the eye liner, I just used the other end of the brush.
For the lips, I used the same rounded brush. But this time I ran it across my peppermint lip balm several times, then picked up the minerals. This is great because I love the feel of my lip balm, but it has some color added to it!
The final me (excuse the red nose, I have a terrible cold)…
The Price
Mineral Foundation – $25.00 for 2.58g
Eye/Lip Minerals – $10.00 for .45g
Samples – $1.00
Foundation Brush – $11.00
Combo Brush – $6.50
~~~~~~~~~~~~~~~~~~~~~~~~~~~~~~~~~~~~~~~~~~~~~~~~~~~~~~~~
To see what my fellow crewmates had to say about Beeyoutiful Skincare, click the banner here:
Disclaimer: As part of the TOS Schoolhouse Review Crew, I received the product or service mentioned above for the purpose of a review. All opinions are my own. For more information, please read my
disclosure
.