When we lived in Spain, the church we attended was pastored by a missionary. There were also several other missionaries in the area who worked together. We became close to their families and learned so much about missionary life there in Spain. Up until that time, we really didn't know any missionaries or know anything about their way of life.

I was recently introduced to another missionary family, the Wild family, who lives in Papua with their four sons. I didn't personally meet the family, but our family did learn many things about them and their life in Papau by watching videos of their life. The Wild family has produced a series of five DVD's, creating a mission curriculum for homeschooling families–or anyone wanting to learn more about mission work in the remote jungles.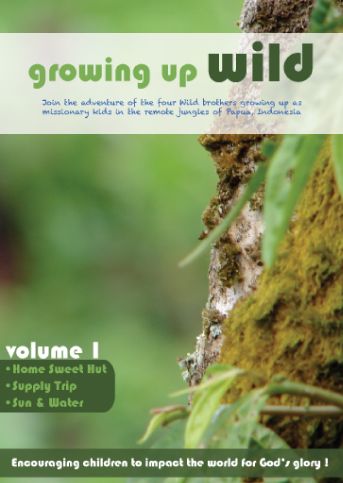 As a family, we watched volumes 1 and 4. Each DVD has three episodes focusing on different aspects of their lives. After each episode, they have provided an activity guide that has many related activities that both facilitate learning and give the viewers a better understanding of the episode. For instance, in volume 1, one of the episodes shows the family picking up supplies that will last them 6 months. One of the related activities requires you to determine how much food you would need to get for your own family in order to sustain it for 6 months.
One of the episodes has the boys talking with Bogo, a village elder, as he tells them stories. The related activity suggested having the kids interview one of their grandparents. Recently, we were able to do just that! My great-grandmother is 75 years old. The kids sat her down and just started asking questions. At first they were a little hesitant and didn't really know what to ask. However, my grandmother just took off telling them all kinds of things about her childhood. Two hours later they had some of the fondest memories recorded! I have included a short clip here:
My kids have watched these videos over and over, even when we haven't sat down to do activities afterwards. I think this is because life in the jungles is so fascinating to them. They have learned how the Wild family gets water and electricity to their hut, the kinds of foods they eat that are native to the area, and are especially enamored by all the animals on the videos.
I do have one concern about the videos that I would like to point out. First I want to say though, that I love the videos. I think this family has a true heart for the things of the Lord, and are trying to be lights for Him. With that said, I was taken back by one of the episodes on the volume 4 DVD. In the video, they are talking about how there are differences in the Wano culture and our own American culture. The Wano tribe members often pierce the septum of their noses (lower middle part), and sticks a large piece of wood through it. As we were watching, the Wild family decided to let their 2 sons get their septums pierced by the tribe members (and it shows them getting it pierced).
For our family, we believe this is wrong and does not honor God. And I am fine discussing this with my children and they understand our beliefs about this. However, I was upset that on the video they comment was made that it is not wrong because it is the same as piercing our ears. To me, it would have been better to have either 1) not show something like this or 2) do so in a way that left it up to the parents to determine whether it is right or wrong. I guess I was just taken back by the fact that I had no warning that it was on the video and then to hear them tell the children it was right to do it without me talking with them first.
I don't want to end on a bad note, because overall we have really enjoyed the videos. We have had our discussions on many aspects of missionary life, so it has definitely brought an awareness to our family that we didn't have before. And I really believe that this is such an important part of preparing our arrows to go out into the world. If God chooses to use or children as missionaries to foreign countries, these are some of the things they will be faced with. What a wonderful thing it is to be able to learn about and discuss these issues with our children now as we teach them about God's Word and what He would have us do!
Growing Up Wild DVD's are $18.99 each or all five for $80.99. They are targeted for children ages 5-12, but I think me and the older kids enjoyed them just as much as the younger ones!
~~~~~~~~~~~~~~~~~~~~~~~~~~~~~~~~~~~~~~~~~~~~~~~~~~~~~~~~
To see what my fellow crewmates had to say about Growing Up Wild, click the banner here:
Disclaimer: As part of the TOS Schoolhouse Review Crew, I received the product or service mentioned above for the purpose of a review. All opinions are my own. For more information, please read my
disclosure
.