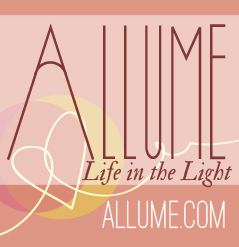 For months I have hoped that I would be able to attend Allume, a Christian blogging conference. It wasn't in the Lords will for me to go this year, but I was excited as could be to find out that Teach Them Diligently was sponsoring a free video streaming of the Allume keynote speakers with a two hour delay. I watched my clock all weekend waiting for each speaker's time slot to come and go, then 2 hours more.
Somewhere along the weekend, there must have been even more delays because the speakers weren't posted at the right times and I was so frustrated. And then I would start a video, and wait forever because my internet is so slow. And when I would finally have it streamed and ready to watch, something would happen and I would be back to square one.
Somehow though, I manage to listen to each speaker, a little at a time throughout the weekend. As I listened to each one, the Lord brought words of encouragement to me, a little at a time. He brought words I needed to hear. Not only about blogging, but about life. About Him.
Blogging is Not My Life
Thursday evening, Sarah Mae spoke. She talked about how blogging, should not be our life. It should only be a small part of our lives. We have to live our lives so that we are able to blog from a life of integrity. And when I looked up the word integrity, here is what I found:
integrity
wholeness; entireness; unbroken state
the entire, unimpaired state of any thing, particularly of the mind
purity; genuine, unadulterated
What the Lord spoke to my heart, is that I need to give, serve, and love my family well. When I come to the screen to write, the words should flow from a life that is whole, unimpaired, genuine. If I can live a life of integrity, I have not business sharing my life with others.
Be Not Envious of My Sisters
Next, I heard from Jessica. She reminded me not to be envious of others, especially my sisters in Christ. In a world where we often feel life little fish in a big pond, it is easy to see how big others have grown and desire to grow big as well. To get noticed. To be commended. Especially for us moms who spend our days cooking and cleaning and wiping runny noses and dirty bottoms.
We all want to feel special. And when one of our sisters gets a moment in the spotlight, gets noticed, gets commended for a job well done, we should be the first to be joyful for her and with her. I shouldn't let my unfulfilled dreams keep me from celebrating someone else dream-come-true.
Romans 12:15
rejoice with them that do rejoice
Live By Faith
Friday even Sally Clarkson spoke. I have Sally's book Educating the Whole Hearted Child which I have read parts of, but I had never heard her speak before. I knew that she had homeschooled her children, that they were now grown, and that she has been in homeschooling circles for many, many years.
When she started her talk, I knew right away that I could relate to her. She just touched me. Maybe because she is close to my mom's age. Maybe because she wears her hair naturally grey and mine will soon be the same. Maybe because she loves the Lord and has a heart for him and it shows.
She talked about blogging, but really about life.
She showed us how we should blog, but really how we should live.
First, "thou shalt love the Lord thy God with all thy heart, and with all thy soul, and with all thy mind, and with all thy strength" (Mark 12:30).
Loving God first and foremost is the key to anything in life. Anything.
Second, "love thy neighbor as thyself" (Mark 12:31). Touching on the same topic as Jessica, this is another foundational doctrine.
If we can't love our neighbors (spouse, family, friends, anyone really), we need spend time repenting and asking God to show us how to love them.
I have thought about this one a lot lately, but in a different way. There have been so many things on my heart that I have felt like I needed to share, but I know they can be somewhat "controversial". They have to be shared in love, or they will fall on hard hearts. I must make sure that I am loving everyone, before posting my words.
Third, "seek ye first the kingdom of God" (Matthew 6:33).
How many times I have sought my own will. How many hours I have put into getting what I want! And what does it mean to seek God's kingdom? I think it means that we do all for God's glory. If that means that my only job here on earth is to love and serve my family, then I need to make that my goal. Doing the best job possible should be my focus.
And let me tell you, this is a hard one for me. I know that I don't seek God's kingdom first. I want to. I try to. But my flesh keeps at me, pulling me back to my own will. I must constantly pray for the Lord's will to be done in all things.
Fourth, "live by faith" (Hebrews 10:38).
Anything I do must be done in faith.  If the Lord asks me to do something, I must do it in faith.  How does this look in practical terms?  Let me tell ya…I have been feeling like I need to pull back from social media, namely Facebook.  It sucks away precious time from me and my family.  I have hung onto it because I am, after all a blogger.  And everyone knows that you have to participate in social media to be successful at blogging!
But what I felt the Lord put on my heart as Sally talked about living by faith, was that I needed to lay down my desires to see my blog grow and let God grow my blog…His way.  If that means no Facebook, so be it.  God doesn't need Facebook to share my words.  He needs me to have faith in Him and His ways.
Allume: What I Learned by Staying Home (part 2)