My oldest daughter started piano lessons shortly before her sixth birthday. She started learning on a hand-me-down keyboard that played "I'm Your Venus" as a sample song, over and over and over. We told her that if she stuck with the piano, we would buy her a real one. Thankfully, she continued playing and we were able to pass along the old keyboard.
In the 12 years since she started playing the piano, music has become a large part of our family. Our four oldest children all play at least two instruments each. Kendra has taught several children how to play the piano, including our two girls. I was excited when I was given the opportunity to review Kinderbach, an online piano lesson music program for young children.

Originally, I had hoped to use Kinderbach with Hannah, who is seven years old. The age range for Kinderbach is ages 3 to 7 (although older children may enjoy the program if they are beginning piano students). I thought that she would be considered a beginning student. I guess because I compare her playing to the older children's playing. However, once we started with the program, she complained that it was "too easy". I had her stick with it for a bit because it is a really neat program and I knew that even if it was just review, it would be beneficial to her.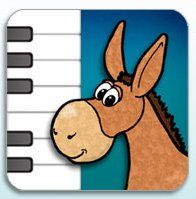 Meanwhile, my soon to be four year old little boy has been begging to "do Kinderbach" everyday. So we switched gears. I printed out the beginning worksheets and have been working on piano with him. To be honest, I had my reservations about doing piano with someone so young, especially a little boy. But I think this is where the Kinderbach program really shines. It is not a typical piano lesson. It is a program geared toward young kids. It makes learning the piano seem like a game, not a lesson.
How It Works
There are six levels to choose from. Because Isaac is so young, and a complete beginner, I started him on level 1. Once you choose a level, there is a PDF lesson book that goes along with each level. It has worksheets to use with the lessons. I printed out the entire lesson book so that all the sheets would be available when I needed them. Each level has 10 weeks worth of classes and each week contains four lessons. I found that it was best if I sat with Isaac during the lesson.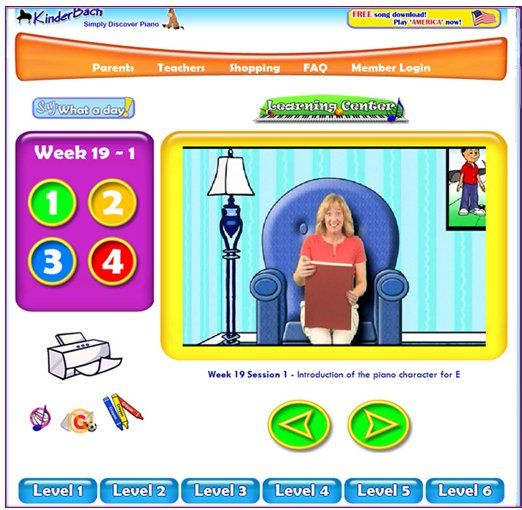 Generally what we have done is sit and watch a few lessons at a time. Isaac loves the songs and the moving around activities. He is a typical little boy in that he doesn't like coloring very much. What we have done to help with this is to do "pretend" coloring. So for instance, in one lesson you had to color the apples. Some were on the ground and some were on the tree. Depending on whether or not the notes were high or low determined whether you colored an apple on the ground or in the tree. It would have taken us all day to get two apples colored. Instead, I just had him color the apples with his finger. It was fun for him and he could then move on quickly to the next sound.
The lessons are a mixture of songs, worksheets (coloring, cutting, pasting), moving around type activities (rhythm instruments, moving hands high, then low), and keyboard/piano activities (finding the two black keys versus the three black keys). I should add here that you don't have to have a piano to do the lessons. A keyboard is actually advantageous in that you can move it around where you need it for the lessons.
Cost of the Program
Kinderbach is $19.99 for the monthly subscription or $95.88 for a yearly subscription. This rate is good for the entire family, which is a huge savings over the cost of private music lessons. If you are wanting to try Kinderbach out before you commit to a subscription, a day pass can be purchased for $5.95.
Overall Opinion
As I mentioned before, we had a rough start with this one and I didn't think it was going to work out for our family. I am happy that Isaac has been able to enjoy this program. It really is a neat program. I sometimes feel guilty about not being able to take the younger kids to all the neat classes being offered, like I did with my older kids. Programs like these make up for that. He gets to have the fun class at home and I don't have to cart kids all over town. Not to mention the cost! With six kids, classes could get very expensive, very quickly! Twenty bucks is very reasonable, especially if you have more than one child using the program. I think this a great program to supplement our children's learning!
~~~~~~~~~~~~~~~~~~~~~~~~~~~~~~~~~~~~~~~~~~~~~~~~~~~~~~~~
To see what my fellow crewmates had to say about Kinderbach, click the banner here:
Disclaimer: As part of the TOS Schoolhouse Review Crew, I received the product or service mentioned above for the purpose of a review. All opinions are my own. For more information, please read my
disclosure
.