When given the choice, most of my children would rather do a hand-on learning activity as opposed to textbook type learning.  I am happy to offer as much hands-on learning as possible as I feel it really helps to cement the things they are learning deep in their brain.  When something is enjoyable, you don't even notice the "learning" part.
Over the last year or so, we (mostly the older kids and I) have been increasing our World War II knowledge.   When the opportunity to review a product that was hands-on learning tool about Pearl Harbor came up, I jumped on the opportunity!

Box of I.D.E.As. (Ideally Dynamic Enrichment Activities)  is just what the name describes…a box full of fun, enrichment activities geared for ages 9-16 (although I enjoyed it as much as the kids!).  As I mentioned above, we received the Pearl Harbor box, but Box of I.D.E.As currently offers learning boxes for several topics including salt, quilting (would have loved this for myself), World War II, the number Eleven, and laundry.
Each box comes with at least 10 learning modules that are individually packaged in large, clear plastic bags.  This may not seem like a big deal, but I was so thankful they had taken the time to separate each module in its own bag.  This helped tremendously with keeping each lesson together and also knowing that everything we needed for that lesson was there (I didn't have to search for anything).  The only thing I felt was missing was an order number on each bag. I accidentally started the second module because they had gotten out of order when I was looking through them. I had to go the website to find the correct order. Not a big deal, but it would have helped out. On the front of each packet is a label with the contents of the module, the materials needed to complete the module (usually only a pencil), and a quote relating to the contents of the module (can be used for copywork or discussion).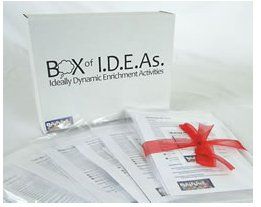 Each module contains an introduction sheet with questions and weblinks for additional learning.  After reading the introduction sheet, the fun part begins. Each module contains at least one hands-on activity. For instance, "Day After the Attack" contains a newspaper and question cards. The answers to the questions can be found by reading the newspaper. Students also get to play editor and look for statements of fact and opinion as they review the articles in the newspaper.
The modules can be completed in one day or spread out over several days. If you complete two modules a week, the entire box can be completed in five weeks. This is perfect for short unit studies or for times (like summer or Christmas vacation) when you want to keep learning but only have a limited time. The modules can also be brought with you when you travel. We recently spent the last six weeks traveling back and forth from Texas to Kansas. I just stuck the box in our suitcase and brought it along with us. Everything we needed for the entire unit was in the box!
Pricing
Each Box of I.D.E.As. unit cost $49.00 for the PDF version and $79.00 for the physical, printed version. Personally, I felt that the price was a bit steep for a unit study that only last at the most 10 weeks. However, I do realize how much work went in to gathering all the facts and information for each unit. This unit was a great blessing to our World War II studies, so I might have considered spending a little extra for it!
~~~~~~~~~~~~~~~~~~~~~~~~~~~~~~~~~~~~~~~~~~~~~~~~~~~~~~~~
To see what my fellow crewmates had to say about Box of I.D.E.As., click the banner here:
Disclaimer: As part of the TOS Schoolhouse Review Crew, I received the product or service mentioned above for the purpose of a review. All opinions are my own. For more information, please read my
disclosure
.