When my third child was a baby, we were attending a rather large church.  The church had every program imaginable, including a two room nursery.  I couldn't bear to leave her in there, so I would try to sit with her in church as long as possible (on the very back row).  Being the only baby in the sanctuary, I was very aware of the looks I would receive at the slightest peep.  I actually spent most of each service in the cry room (with adjoining doors to both nursery rooms).  I remember over hearing the children's leader as she stopped by to check on the nursery workers.  She was commenting on a baby that just wouldn't stop crying.  She made the remark that it was better for the baby to be left crying so that it would get used to being in the nursery.  It just broke my heart.
Over the next seven years, I pretty much continued the same pattern with each subsequent baby.  It was very obvious that other church members were not in agreement with us keeping our children in church, but we knew in our hearts that it was the right thing to do.  It was because we had some great theological reason to do so (although I wish we did), we just felt that our children should be in church with us.  At the end of the those seven years, we began hearing about something called a "family integrated church".  We were shocked!  We couldn't believe there were churches where every family worshiped together.  We looked into it further, but were unable to find any churches close enough for us to visit.
About this time, we moved to Spain.  Our church there was tiny and very close-knit.  We continued to keep our children with us, and were questioned about it.  By this time, we had began to articulate the reasons we felt it was important to do so.  I remember the objections from some of our Spanish friends, number one being that there was no way there children would sit through church.  Then I remember the Sunday when one of the young couples kept their 2-year-old with them.  It was a struggle at first, but the father was very diligent in working with the boy and keeping him in line.  After a time, the boy was able to sit in church with his mom and dad.  I had never talked with this family directly (they only spoke Spanish and Portuguese), but they watched us and knew it was what they wanted for their son.
We have now moved again and have finally been blessed to attend a church where everyone stays together for the entire service.  There are many Sundays when I sit out in the lobby (we have services in a hotel) with other mothers trying to keep our youngest ones quiet.  It is a training process and let me tell you, none of us has it down perfectly.  We are all striving each Sunday, with each of our children, to lead them as the Lord would have us.
My brethren, count it all joy when ye fall into divers temptations; Knowing this, that the trying of your faith worketh patience. But let patience have her perfect work, that ye may be perfect and entire, wanting nothing.

James 1:2-4
When I was given the chance to review an advance copy of Curt and Sandra Lovelace's new book Children in Church: Nurturing Hearts of Worship (published by Hal and Melanie Young of Raising Real Men), I knew that this would be a book that I could really relate to. I was hoping that it would also offer some insight into the why's and how to's of keeping children in church. That is exactly what it did!
I want to start out by saying there were a few things that I was very thankful for as I read this book. First, Curt and Sandra have such sweet spirits that really come out in their writing (I have never met them personally, just my observation from the words they write). I could tell that they have written this book in love and are very passionate about its message. Second, they have finished the race. What I mean by that is they have struggled with all the elements they have written about and have seen the fruit of their labor. This is so important. Theory can be good, but when I am struggle with an issue, I want help from someone who knows where I am at. Third, and most importantly, they draw on the Word of God. Every aspect of our lives should be viewed in the light of scripture, especially something as important as the gathering of believers.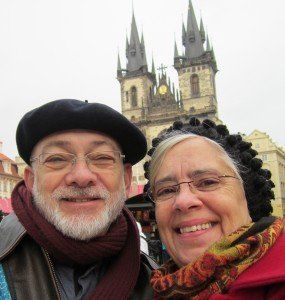 In the book, Curt and Sandra start out explaining why children should be included in the worship of the church. Something that really stuck with me was when they told how each of them came to know the Lord as adults. They showed that although they were baby Christians, unfamiliar with the Bible, and not understanding everything during each service, they were still invited to attend church with everyone else. They weren't sent off to a special class for their level. This made me stop and think. There are probably some children that understand the Word better than some of the adults in church, and yet we would think it preposterous to send the adults to "baby Christian church".
Once Curt and Sandra walk through the Biblical foundation for families being together in church, they then advise parents to count the costs of doing so. I thought, "wow, that's a great idea, wish we had done that!" We didn't even know what the costs were. Thankfully the Lord has sustained us. It would be nice, especially if you are just beginning this journey, to know why you are doing this and to write it down. This road can sometimes get rocky (especially for the one having to do most of the training) and it is a great reminder to stay in the race.
Because we didn't have mentors in this area, we have kind of just flew by the seat of our pants in training our kids to stay in church. I knew the long-term goal was for them to sit through the entire service and to begin to listen and retain what was being taught, but I never thought about the steps it takes to get there. I appreciated both the practical examples that were given in the book, as well as information on what is reasonable to expect out of our children. For example, Sandra explains how to put together a special bag with age appropriate items to keep the child entertained. This may seem like a common knowledge thing to do, but I think we sometime overlook the simple things that make our lives easier. I was reminded that if I would spend some extra time preparing something special, it would help keep my child's interest longer than the few toys I throw into the diaper bag as we head out the door.
Another thought I had as I read this book, is that we sometimes make our lives harder by worrying about what others think. For instance, Sandra talks about nursing her baby to sleep after the first part of church. I can't tell you how many times I have been able to keep a little one quiet during the singing part of church, then left to go nurse them outside because I thought others my think it was wrong to nurse in church (I always cover up very good). It was freeing to hear from someone else, that yes, it is OK to nurse your little one quietly in your seat.
A couple of last thoughts that stood out to me were the fact that we need to be very careful not to judge others, especially as they are going through the training period with their children. Yes, some services may be more distracting, but we need to bear one another's burdens. Which leads me to another thought. As we get older and have children who have learned to sit quietly through church, we should reach out to others who may need a break in their training efforts.
Personally, our church now is mostly all in the training phase, but with time those of us who believe strongly about keeping our children with us during church should help others do the same. I am so thankful that Curt and Sandra have poured out their hearts to help those of us who are still in the trenches. It is such a blessing to have others come along side of you and offer encouragement and strength. This book was one of those blessings!
Preorders – Children in Church
Facebook – Children in Church
Publishers – Raising Real Men

~~~~~~~~~~~~~~~~~~~~~~~~~~~~~~~~~~~~~~~~~~~~~~~~~~~~~~~~
To see what my fellow crewmates had to say about Children in Church, click the banner here:
Disclaimer: As part of the TOS Schoolhouse Review Crew, I received the product or service mentioned above for the purpose of a review. All opinions are my own. For more information, please read my
disclosure
.