OK, I am just going to cut to the chase and say right up front that King Alfred's English has moved into my "top 10 favorite books" list. I don't know how many times my jaw fell open and I was just amazed by the depth of research and information Laurie White put into this book!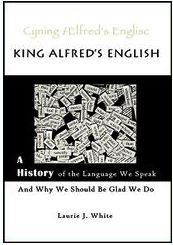 In King Alfred's English, Ms. White chronicles the development of the English language from its humble Anglo-Saxon beginnings up through the ages to our present melting pot lingo. She illuminated the transformation of the language by giving the reader a detailed history lesson so that we can see the change in the context of other historical events. It is not enough to simply know that around the time of the first millennium there was a large influx of French words into our language. When you realize that William the Conquering, Duke of Normandy, had taken it upon himself to rule England, you can then see that with his rule came a large population of French-speaking nobleman. It then becomes clear how the French language heavily influenced our own language during his rule.
Another aspect of Ms. White's writing that I particularly enjoyed is seeing how the providence of God worked in the lives of men to bring the English language to where it is today. I guess I had always thought (though not consciously) that each language was in the same form today as it was when the Lord confused the languages at the tower of Babel. I didn't realize how much change occurred over the centuries and how each change was brought about for the greater purpose of God. For instance, I was amazed at how the fall of the Greek Byzantine Empire led to the resurgence of Greek education. The rest of Europe now had access to many historical writings and a new interest in learning Greek emerged. Interestingly, the Greek Orthodox church, fleeing from Muslim persecution, brought with them the New Testament manuscripts they had preserved for many years. Here is the "coincidental" kicker, the Gutenberg printing press was unveiled just three years later. So for the first time in history, all of Europe had access to the New Testament and a printing press to help disseminate the Word of God! Amazing!
If all this history and change in the English language weren't enough, Laurie White ties in some of the most remarkable background information about our language I have ever heard. Some of it is funny. Some of it is sad. Some of it just makes you go "hmm'. Ever wonder why we call a hog "pork" when we eat it? How about calling a deer "venison" or a cow "beef"? Remember all those uppity French nobleman that came over with William the Conqueror? In the barnyard where the lowly Englishmen worked, the animals were known by their English names–hog, deer, cow. But when they were served to the French nobleman, they were announced by their French names–pork, venison,beef!
Since I am from Texas and have heard all my life that "ain't" isn't a proper word, I thought I would leave you with a final quote from King Alfred's English (to prove how smart us Texans really are)
"Ain't I" was short for "am I not?" or, more accurately, "am not I?" as in, "I'm beautiful, ain't I?" ain't was the contraction for am not. So, what happened to it? Why can't we use ain't now? Today, the correct form is to say, "Aren't I?" which put straightforward would be "I are not, " and that sure isn't grammatically correct!
I would encourage all of you to add Kind Alfred's English to your reading lists this year. I think that even young teens would enjoy it (Laurie writes in an easy-to-understand way).
Order King Alfred's English
King Alfred's English retails for $16.95, and can be purchased at Christian Books, Amazon, and Rainbow Resources. It is also available for the Kindle for $5.95.
Discount Code
For those interested in purchasing a copy, Laurie has graciously given me permission to offer four (4) of my readers a discount code to purchase her book at 50% off! The first four comments will receive the discount code.
~~~~~~~~~~~~~~~~~~~~~~~~~~~~~~~~~~~~~~~~~~~~~~~~~~~~~~~~
To see what my fellow crewmates had to say about the King Alfred's English, by Laurie White, click the banner here:
Disclaimer: As part of the TOS Schoolhouse Review Crew, I received the product or service mentioned above for the purpose of a review. All opinions are my own. For more information, please read my
disclosure
.