Over the last year, my oldest daughter has attended two different ladies' tea parties–one for a Sense and Sensibility book chat and one for the Turn of the Century tea party at the Vision Forum Reformation of Food and the Family conference. Both times she had hoped to find a period dress to wear, but in each instance we were pressed for time and weren't able to make a dress in time. Most of the patterns we had looked at were very elaborate and would have taken quite a bit of skill to make.

The Book
Both my daughter and I were very pleased to be able to review a copy of Costumes with Character by Amy Puetz. At first, I thought that this was simply a book of historical dress patterns. I was pleasantly surprised to find that it was so much more. The book contains chapters from eleven different time periods. Each chapter gives a historical synopsis of the the time period, as well as information about the clothing of the time period. There are relevant quotes scattered throughout the book, along with a questions to spur further historical study. I was also glad to see a resource section to add to our studies. After homeschooling for 12 years, I am familiar with most homeschooling books, but Amy includes other books to shed light on the clothing during each time period.
Amy has included excerpts from several historical documents, helping the reader to better understand the people in each time period. This struck a chord in me as I realized that although there are general patterns of dress during each period, each specific person was much like we are today. They each had their own tastes and were limited by availability of materials, skill level, time, and money. Many of the women had to be very frugal and make do with what they had available. Most of the time, their daily clothing might have been very plain with an apron covering it to help prevent spoiling it as they did their work. Fancier clothing, worn only on special occasions, would have been carefully stored and passed down from one generation to the next.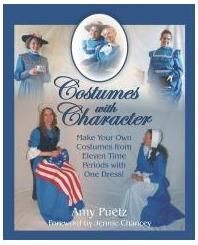 The Patterns
As I mentioned before, most of the patterns I have seen in the past have been very complex. Amy has greatly simplified her patterns by first starting with a simple "base" dress, then build upon it for each costume. Some of the costumes are created by simply adding an apron, collar, and head covering. Others are more elaborate and require more skill level to make.
As first I was a bit disappointed that some of the costumes were so simple. But after I thought about it a bit, I realized that this is really a great thing for our family. For instance, my younger girls would be able to help with the simple pilgrim costumes, where as my oldest daughter would like to make a Civil War era dress, complete with hoop skirts. And just because the patterns are simple, doesn't mean we can't add to them and make them our own.
I am not seamstress, but I do sew quite a bit. Amy has written out her pattern instruction in a very clear, step-by-step manner. She has included illustrations and images to further explain the instructions. The patterns in the book are on a grid and must be enlarged. This can prove to be cumbersome as you print our several sheets of paper then try to piece them together. I was so thankful to get an email from Amy saying that she recently added full size patterns to her website!
Age Range
As far as the historical information in the book, this would be a great history supplement for anyone 8 and up. However, children this young would definitely need help sewing the costumes.
Price
Costumes with Character comes in both the e-book version for $21.95 or the printed version for $37.00.
Through the end of August, Golden Prairie Press is having a back-to-school sale and offering 20% off all of their books, e-books, and patterns.
~~~~~~~~~~~~~~~~~~~~~~~~~~~~~~~~~~~~~~~~~~~~~~~~~~~~~~~~
To see what my fellow crewmates had to say about Costumes with Character, click the banner here:
Disclaimer: As part of the TOS Schoolhouse Review Crew, I received the product or service mentioned above for the purpose of a review. All opinions are my own. For more information, please read my
disclosure
.