From the very beginning of our homeschooling journey, I knew that I wanted to teach my children through great literature. I love to read and I wanted my children to learn to love reading. My oldest daughter learned to read very early and is always seen with a book in her hand.
For my son, learning to read was much more difficult. He had many tracking difficulties, as well as mild dyslexia. It seemed like year after year it was such a struggle. During this time, I started having him listen to literature on CD's. Fortunately, our local library carried an extensive collection of audio books. I would check out audio books that were beyond his reading level and have him listen to them as he played or before bed.
When I had the opportunity to review Hewitt Homeschooling's Lightening Literature and Composition, I was a little concerned that it would be too hard for my son. While he has become a very proficient reader, he still breaks out in a sweat if the book is too long or has small print. And he does so much better with books that he enjoys reading (don't we all). I was anxious to see how he would do with the program.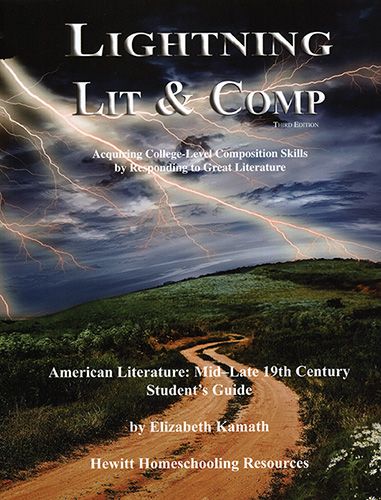 How It Works
Once the guide arrived, I took some time to get familiar with it before I had him jump in. The Lightening Literature student guide is broken down into four units. Each unit consists of one book lesson and one non-book lesson. The lessons are further broken down. There is an introduction with information about the author. There are then comprehension questions to be answered periodically as you read (or in the case of the shorter lessons, they can be answered at the end).
Each lesson then contains a literary lesson, covering a single literary topic. For example, the Adventures of Huckleberry Finn lesson teaches the use of humor in writing. The student then goes on to the writing portion of the lesson where he is given several writing topics to choose from. The writing assignments give the student a chance to put into practice the literary lesson they have learned.
Generally, the guide can be used over a semester. However, some children may need to stretch it out over two semesters.
Pricing
Lightning Literature and Composition
American Mid-Late 19th Century
Student Guide – $29.95
Teacher Guide – $2.95
Student Guide, Teacher Guide, Literature Pack (Uncle Tom's Cabin, Call of the Wild, Huckleberry Finn, and The Red Badge of Courage) – $51.98
Age Range
It is stated on the website that this particular course is perfect for high school freshman or anyone new to the Lightening Literature courses. I would recommend taking a look at the literature selections before hand to determine both skill level and appropriateness of the books. I think that there are many students younger than 9th grade that would be able to complete the lessons without any trouble. However, some of the content in the reading books deals with mature situations.
Pros
I liked that we were able to choose a lesson out of order and begin working there. For us, it helped ease my son into the program to have him do a "shorter" lesson first.
I also liked the fact that each lesson, or book, focused on one area of learning. For example, the use of local color was shown in the "The Outcast of Poker Flat" lesson. The student is allowed to focus solely on that one aspect of literature for this lesson. That is very helpful when you are learning something new and asking a student to identify it both in the reading selection and then writing about it.
This course could easily be worked into many different history or English programs. All of the literature selections are during the late 19th century (they do offer guides for other time periods). So if you are studying the Civil War time period (or later), this would go perfectly with your current studies.
Cons
The student guide has a brief writing guide in the introduction section of the book. If a student has had a writing course prior to this class, the writing guide should provide enough direction to do well in the class. However, if this is your child's first time writing, addition writing instruction may be necessary.
My son mentioned that he would have liked more commentary on the books. He thought it might have made it easier to see the lesson as he was reading. For instance, after reading chapters 1-5, then have a commentary and point out instances of figurative language. This would allow him to learn about it in context. He felt that by the time he finished the book, he was learning the literary lesson in retrospect. It might even be helpful to learn the literary lesson first, then read the book, so that you know what you are reading.
Recommendations
As I mentioned previously, we decided to start with the second unit, lesson 3. My son had no problem with this lesson. We both enjoyed reading about "local color" and how it can bring your reader into the story. After this lesson, we moved on to lesson 4, Adventures of Huckleberry Finn. I was appreciative of the author covering the controversy surrounding this book. I have never read this book and didn't realize the language used in the book. I do agree with the author that the literary quality of the book outweighs the controversial language used in the book.
Because the book was a difficult read for my son, I did have him listen to the audio version first. I felt that if he listen to it first, he would know the story line and be familiar with the verbiage used. We have also decided to stretch out the lessons over at least a year.
Overall, I was pleased with the curriculum. I felt like it covered several topics that I would have missed had we just read the books on our own (for instance, I had never heard of local color). I thought that both the book selections and the shorter readings fell right into line with our learning style (Charlotte Mason method). We are looking forward to using the Lightening Literature and Composition guide throughout the year.
~~~~~~~~~~~~~~~~~~~~~~~~~~~~~~~~~~~~~~~~~~~~~~~~~~~~~~~~
To see what my fellow crewmates had to say about Hewitt Homeschooling, click the banner here:
Disclaimer: As part of the TOS Schoolhouse Review Crew, I received the product or service mentioned above for the purpose of a review. All opinions are my own. For more information, please read my disclosure.