Over the last 11 years of homeschooling, I have always been somewhat eclectic in my curriculum choices. Even from the beginning, I preferred to mix and match and pick out the ones that most interested me. Choosing curriculum is still one of the most exciting aspects of homeschooling, especially now that some of my children are getting older.
I recently joined the Schoolhouse Review Crew. It is affiliated with The Old Schoolhouse Magazine. I am so excited about this opportunity to review homeschooling curriculum and share my thoughts about it with you! I really feel like the timing of it was totally the Lord's. This year is going to be more financially tight now that we are running two households on one income. This was further confirmed in the first review selection…
My oldest daughter graduated this year and has decided to study midwifery in hopes of becoming a missionary. She has studied Spanish over the years (usually through computer programs) and we even lived in Spain for 1 1/2 years. However, she still felt like she wanted to work on it more to become completely fluent.
She has attained a large vocabulary, but stringing the words together into sentences is a bit harder for her. I knew that to become comfortable doing this, she really needed some one-on-one time with somebody who speaks Spanish (my husband speaks Spanish, but doesn't always have the time to work on it with her). I had thought about getting a tutor for her, but it is rather expensive and I didn't feel like I wanted her meeting up with a "stranger".
When the first review selection was announced, I *knew* it was perfect for Kendra. Homeschool Spanish Academy is just pure genius and I can't believe it hasn't been around before now. In a nutshell, HSA teachers are native Spanish speakers who work with students over the internet via skype. During the first lesson, the teacher evaluates the students level of understanding, then starts teaching them from that level (very personalized learning).
Because Kendra is more advanced, her teacher spends most of the time in conversation with her. While they are conversing, the teacher will type out any words/phrases that are unknown so that Kendra has a list to refer back to as she studies during the week. One exciting aspect of this has been in the content of her learning. Kendra had mentioned to her teacher that she is studying herbal medicine to aid her midwifery studies. The young lady teaching her is very familiar with herbal medicine and has taught many of the Spanish names of the herbs and their general uses (in Spanish as well).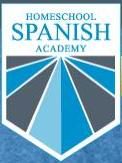 How the Program Works
In order to study through the Homeschool Spanish Academy, students will need to have access to a computer with high speed internet (in order to have a quality connection on skype). The company will walk you through a diagnostic test to determine the speed of your internet connection. They also recommend a microphone and headset, but we were able to use the microphone on the computer just fine (however, I did make sure that Kendra was in a quiet room when doing the class).
Once the account is set up, simple log in a click on "schedule my course". You can then choose a time and pick from several teachers. I am not sure if it is mandatory, but we always chose the same teacher. When the appointment time arrives, simply log in to skype and wait for the call from the teacher. Each lesson last 50 minutes for older students (ages 10 and up) and 25 minutes for younger ones.
Pricing
The pricing for the classes varies. The classes for the younger kids are shorter classes and are less expensive than for older children. There is great flexibility in the choice of classes. For instance, classes can be taken individually or two children can take a class together. There is also the option to take a full 15 week semester (with either 1 or 2 classes per week) or a half semester of 7 weeks (1 or 2 classes per week).
For a full list of pricing options, please take a look at the appropriate level of interest:
Early Language
Middle School
High School
Adult Learning
Age Range
This program is available for ages 5 and up. We only used the high school level, so I am not certain how the classes are taught for the younger kids. For Kendra's lesson, the teacher spoke to her in Spanish unless she had a specific question that needed to be explained in English. I am guessing that the teachers would use more English for children that are beginning students.
Pros
I asked Kendra to make a list of the things she liked about the program. Here are a few things she mentioned:
personal help – personal tutor gets to know you and you get one-on-one attention
personalized learning – able to learn at your own pace and at the level you are at
personalized lessons – the teacher talks to you about what is going on in your life and talks to you about it in Spanish (this gives you a frame of reference for what you are learning. If there is something specific you are wanting to learn, or a direction you want to go with your learning, the teachers helps guide you in that direction.
personal classroom – you don't have others staring at you when you answer a question or try to think of the words to use
Cons
For our family, the only thing that would be a deterrent to using this program would be the cost. I should say though, that most all of the foreign language programs I have used or seen are rather pricey. And when you compare the price of this program to tutoring services, the Homeschool Spanish Academy is really quite reasonable. I would also add that the motive for taking a foreign language would also factor in. For instance, if my child only wanted to take a foreign language because it was required, I might not fork out as much money. In our case, my daughter really wants to become fluent and converse in the language. In this instance, the price is well worth it! So I guess the "con" is only a con in certain instances.
Overall Recommendations
We feel so blessed to have found this program. I would love it if this type of learning was available for other languages. Having lived overseas twice, I truly believe that the only way to fully learn a language is to jump in there and use it. We don't always have that opportunity here in America, so this program is a great alternative. I would highly recommend it to anyone wanting to learn to speak Spanish!
To see what my fellow crewmates had to say about Homeschool Spanish Academy, click the banner here:
Disclaimer: As part of the TOS Schoolhouse Review Crew, I received the product or service mentioned above for the purpose of a review. All opinions are my own. For more information, please read my
disclosure
.
This post is linked up at The Homeschool Curriculum Review Roundup.